Workshops



Since 2018 Feral Fabric has been leading backpatch, banner, and cape workshops at art institutions and in the community.

Community Banner Workshop
Distance-style
https://www.berkeleyartcenter.org/feral-fabric
Last Fall, Berkeley Art Center commissioned Feral Fabric to create a Community Banner to be displayed outside on the bridge pathway in Live Oak Park.


For this project, we were drawn to the snake as a symbol of creativity, healing, regeneration and rebirth. Participants made individual panels reflecting something the maker wanted to change, or shed, in the process of transformation. We combined these panels to form a 40' banner which acts as a sort of time capsule, reflecting the hopes, anxieties, and realities of this difficult time.


Feral Fabric distributed DIY kits consisting of fabric and sewing materials kits to over 50 participants in Berkeley and Oakland, including folks from the senior center, some of our unhoused community members, grade-school chidlren and a boatload of artists. We hosted a ZOOM work session where many of us got a chance to create panels together and discuss the history of radical textiles.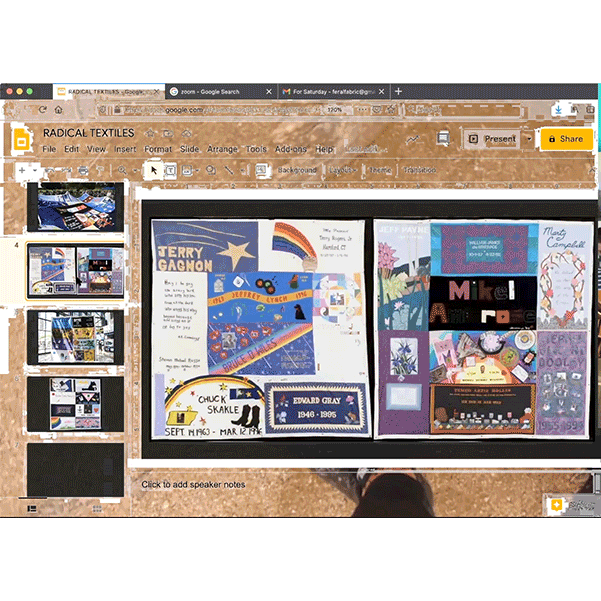 The finished banner contains work by about three dozen participants. The banner and accompanying ZOOM workshop video are on view along the bridge pathway of Berkeley Art Center through February 2021
Community Snake Banner
Mixed Textile media
41 x 3.5'
2020

The Workshop
ZOOM workshop documentation
runtime 6:26 minutes
2020

This project was commissioned by the Berkeley Art Center

included media:
horses video: John Fowler. https://www.flickr.com/photos/snowpeak/8349528999/.
license: https://creativecommons.org/licenses/by/2.0/
snake video: EYE Film Institute Netherlands, Public domain, via Wikimedia Commons Star video: https://archive.org/details/Televisi1961 c/o Prelinger Library, archive.org