1.
New Trade Route
Runway show documentation. Edison, Washington 2020
Make Something Happen No Matter What.
Sheila Klein on Functional Fabrics, Architecture, and Singing the Same Tune
Sheila Klein
interviewed by Paulina Berczynski
Edited for clarity.
Sheila Klein is in Argentina, buying all the frame looms she can find.


Since 2007, the Pittsburgh-born artist has been splitting her time between Buenos Aires and a village north of Seattle, taking a long break due to covid travel restrictions. Klein's interest in the monumental, and in subverting architectural spaces with allusions to the feminine and the hand-made, form the basis of her decades-long practice. Moving through the fields of architecture, visual, and public art, Klein works to radicalize and "architecturalize" forms that are ubiquitous and familiar. Klein frequently uses the process of crochet, and has an affinity for using readymade clothing and everyday materials in her work. In New Trade Route, she transforms domestic material used in Argentina for cleaning into clothing.

"My husband and I bought an apartment in Buenos Aires in 2007. The first time we came here I found all of these incredible fabrics at the supermarket, and I bought a big stack of stuff to bring back home. The Argentines are clean freaks. I don't know of another culture that has little boutique shops only for cleaning supplies and rags and buckets. People here clean the street every day…the garbage gets taken out every day. It's such a thing."


2. Klein vending
New Trade Route
in Argentina (in front of Pasto Gallery, Recoleta). 2020
Among the fabrics, Klein found an off-white raschel looped fabric accented with stripes, which she used to make a chanel-inspired jacket. This began a fourteen-year-long project, in which Klein creates limited production clothing basics out of Argentinian rags, which she sells primarily in the US.

"I didn't want to sell it in the normal way. I got the idea to sell it in the little village near my house which is 150 people and it's a really special place… I started going into town as a way to stay in touch with the town, and challenge myself to be in this really vulnerable position sitting outside in the street. I went in there the first time with a girlfriend of mine and it was kind of a fantasy thing like, "I'm going to be a peddler and dress people up. I'm going to take baskets with these clothes that I'm making out of rags from Argentina." People use them as rags but they're really an artisanal fabric, and it's amazing because now I've been down the rabbit hole on Mercado Libre [Argentinian Ebay] and there's all these looms. And it looks to me like there used to be more of a home industry where people wove these beautiful frigging cloths to clean the floor, and to clean the counter, and they have different cloths for different uses. One for the car, one for the walls, you know, it's just unbelievable. It's fascinating – these funky looms. The material is an unbleached cotton. It's a knit, and that's part of the reason that it drapes well on the body.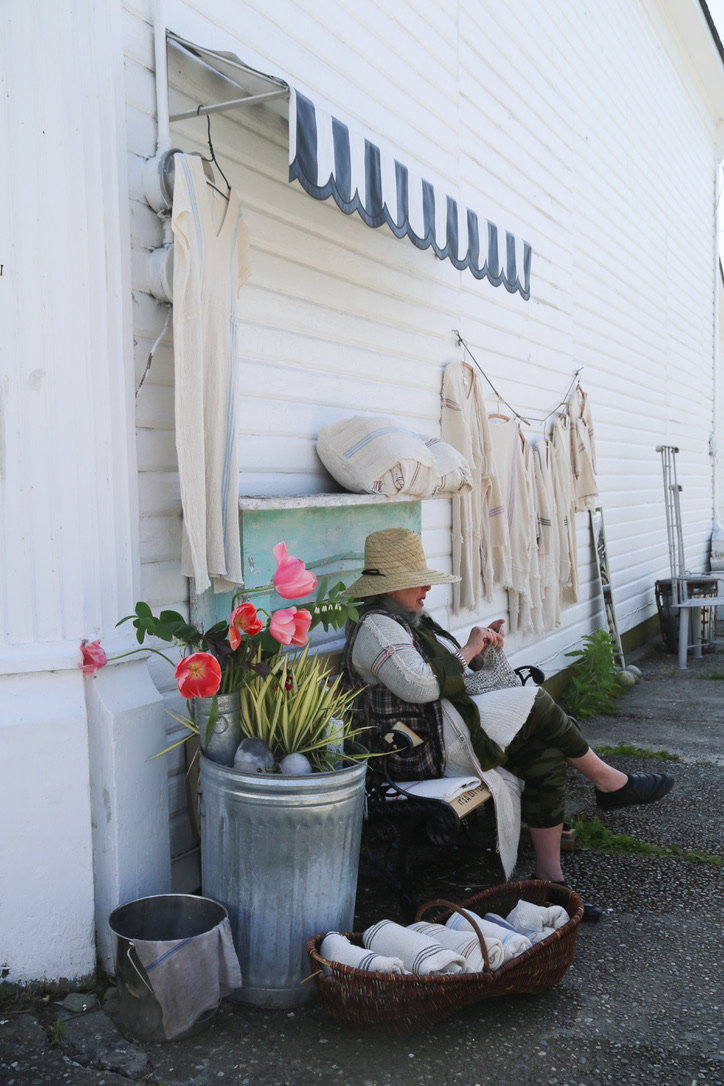 3. Documentation of Klein vending
New Trade Route
in her small town. Washington State, 2020
Part of me vending in the street is that I getting people to think of the world in different terms, bringing Argentina forward and staying in touch with my community imn Edison. I like making accessible things that people can wear all the time and really get a lot of use out of and enjoy."

During the pandemic, Klein, like the rest of the world, found her world constrained and her anxiety working overtime, particularly in the early months. Unable to travel, show or sell her work in her customary way, she began walking through the field on her property, which she and her partner lease to a potato farmer.

"So normally when they plant, they plant it edge to edge, so you couldn't really walk in the field. But since they got this new kind of potato harvester, they made this roadway all around the perimeter of our field. I was having all this anxiety, like everyone, from this whole situation of pandemia. So I started walking around the field, and I'm looking at my farm from a viewpoint that I've never even seen in 27 years, because I've never been able to walk into this field quite like this. And it was beautiful, and really private. One day I was walking out there and I was like, 'Oh, this is totally a runway. This is a place for me to have a New Trade Route fashion show.'"


4. Video Still from
New Trade Route's Cotton and Potato
video documentation. 2020
I came up with this idea to do cotton and potatoes, so the clothes are all cotton and the field was full of potatoes. I had twenty people, I had 12 models, I had three photographers and a drone, I had a fluffer, I had someone who made sure everyone was in the right order. A lot of people were related so that it could be less cars and less pods of people. I made custom masks for everyone. They're very sculptural as they're made out of a mens shawl from India that is not dyed."

PZB: It's funny how you have these cleaning cloths in their international debut on the runway in a potato field. There are a lot of allusions to lowly labor there. The potato is such a staple [crop] in a lot of places.

"For me, when I think about what it takes to grow food, or to grow cotton. Or to process food, or to process cotton or fiber… I mean it is huge! I can't even."

Klein's interest in functional fabrics and materials runs deep.

In addition to the artisanal rags, she uses in New Trade Route, her recent works are made using a string she was drawn to in a wholesale market – which she later found out is a butchers' twine used to tie sausages. This incidental material choice begs for a labor pun on "how the sausage gets made." Klein has her own ruminations on the topic of work:

"This whole idea of making work - I love it when artists say 'I'm making work,' because literally, you're going to go invent work that no one wants. But it's incredibly meaningful to us, and that we are going to devote our whole life to, and that's the way it is."

5. In-progress weaving incorporating used tights. 2021
6. Right:
Stand.
2000. Nylon lycra, steel. 13' x 13' x 9'
Currently, Klein is working on a large-scale architectural commission in Seattle, as well as a series of as-yet untitled, warp-facing weavings which incorporate already worn garments. "It's like capturing cloth that's already woven inside of a weaving. It interests me conceptually but it also interests me structurally in terms of the weave." Her interest in the personal, whether recontextualized or blown up to scale, also speaks to Klein's interest in public art, which makes up a large portion of her creative output and, along with gallery sales, is a primary funding source that has allowed her to continue working (and keep buying looms).
7
Comfort Zone
install photograph. 2005
Her 2004 architectural work Comfort Zone took the form of permanent handmade stainless steel textiles, placed on the building to comfort it. The stainless steel yarn for the work was custom-made in Belgium, forcing Klein to determine all of the details for the project ahead of time. For this project Klein "had everything figured out to the nines. But in general I like to have freedom, and be able to make choices as needed."

Comfort Zone recalls the medium of crochet as well as curtains, blankets, shawls, and other domestic textiles. It also recalls some of the infill on the old porches that once graced the site. The panels use classic finger-manipulated lace weaving patterns in a hyper scale as an architectural detail. The work was constructed on a custom-built frame loom which was integrated into the building.

"As a child growing up in Pittsburgh I spent many weekends at the Carnegie Museum of Art. The Hall of Architecture served as my corridor between the art galleries and the library. When I traveled to India in 2008, I found the perforated lacy window walls in Rajasthan to be so much like crocheted architecture. Both crochet and architecture are formed by a series of posts and interstices creating a geometric hierarchy."

8 Archival press photograph of Klein with hand-woven steel lace samples for Comfort Zone. 2004
9 Studio assistant working on Comfort Zone. 2004


10
Comfort Zone
Finished Install. Hand-woven steel lattice. 2004. Pat Steele Building, Harborview Medical Center, Seattle, Washington
"The thing about crochet is, it can be a drawing or a sculpture- it can be anything.
It's so much freer than knitting or weaving. And also there's the portability of it, and the ability to scale up. It's related to architecture because architecture is like a series of posts and openings, and so is crochet. When I realized I could crochet architecture, since part of my thing is re-making the world, I thought 'this really works for me.' I worked in installation, and we had this architecture firm. I wanted to make places as much as I wanted to make things. I really wanted to make the world, so I think [working with architecture] was my way of doing that." Klein and her husband, along with a licensed architect, ran a successful architecture firm in the 1980s called A2Z, which was featured on the cover of
Arts & Architecture.
The relationships Klein creates between crochet and architecture create a strong throughline in many of Klein's works, as in her series
Textile Wallah.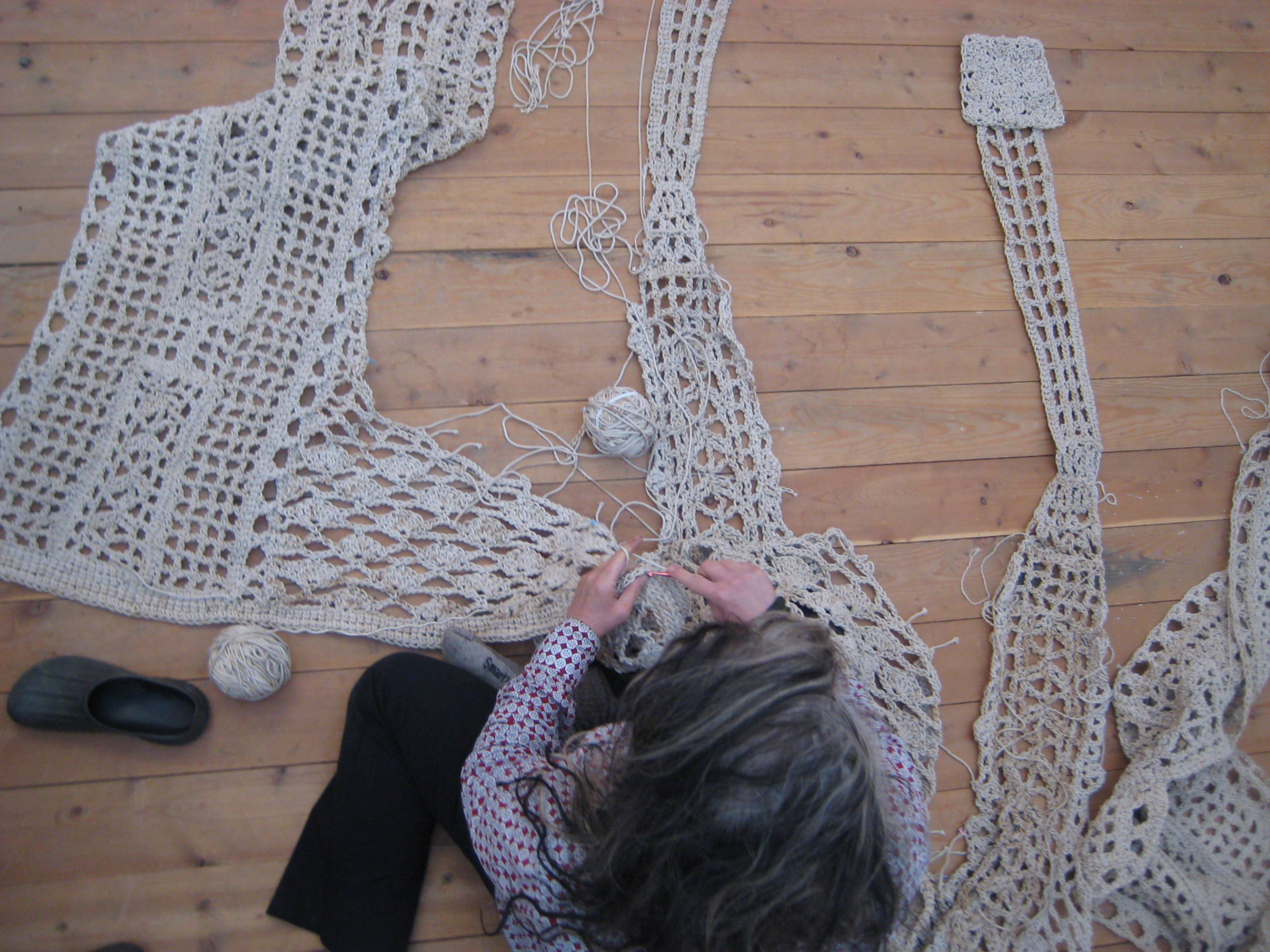 11 Reference Image for
Lattice Red Fort
, New Delhi India
12
Delhi Lattice
, L&P Hutheesing Visual Art Centre, K.I. Campus, CEPT, Ahmedabad, India. 2013. Tea-dyed cotton seine twine. 96" x 82"
13
Textile Wallah
, Part of the Series Hall of Architecture, Pittsburgh Center for the Arts 2009. Tea dyed cotton seine twine. 96" x 180" x 1/4"
14
Textile Wallah
crochet process in the artist's studio. 2008
"
12
Delhi Lattice
, L&P Hutheesing Visual Art Centre, K.I. Campus, CEPT, Ahmedabad, India. 2013. Tea-dyed cotton seine twine. 96" x 82"
The Wallah piece really got me going…it's like making the feminine muscular. And making Architecture soft. Exposing it, amplifying it - it's all of that. And also, I enjoy things taking form in my hands. I'm very intrigued by warp-faced fabrics. I've always been a big fan of Lenore Tawney. And also I like the freedom of that kind of thing, because I'm manipulating it, it's not determined. I don't have to make a lot of choices in advance."
Speaking about
Comfort Zone
, which preceded
Textile Wallah
though the two are obviously connected in many ways, Klein has said "We're all just singing the same song, playing the same tune- and it's the same for artists -
we're all just trying to keep making the same piece, in a way."
16.
Work in the Sun
. 2014 Textile, cotton 30" x 42"
In response to a request from Feral Fabric about Labor
December 3 2021
Buenos Aires