Catherine Clark Gallery
UPRISING, Through December 23, 2021
San Francisco

A video and montage exhibition of collaborative works by Deborah Oropallo and Andy Rappaport, that digest the current meaning of monuments and memorials during this period of potential transformation.

Video still from Deborah Oropallo and Andy Rappaport, UPRISING, 2021


Round Weather
Really Now, Through December 24
With Maria Guzman Capron, Christina Conklin, Leeza Doreian, Tanja Geis, Gabriela Gonzalez Leal, and Susan Smith
Oakland

Round Weather specializes in work that concerns itself with the climate crisis. They also use the money from all the sales of art to fund organizations that support and address the crisis, like Dogwood Alliance, Friends of the Earth, and Indigenous Environmental Network. Their current exhibition, Really Now, is full of colorful and textural works that weave reuse into the process and the ends. For those who can't make the show, a viewing gallery offers access to the entire show from home.

In LA? Check out Celaje, a solo exhibition of new textile sculptures by Oakland-based artist (and fellow CCA alum) Maria A. Guzmán Capron. Shulamit Nazarian, through January 8, 2022.

Maria A. Guzman Capron, Mi Tanga, 2017,
Fabric, thread, batting, acrylic and spray paint, 54 x 54 in.


de Young Museum
Judy Chicago: A Retrospective, Through Jan. 9, 2022
San Francisco

Cringe past the gender essentialism of this first retrospective for Judy Chicago, and enjoy the greatest hits of her feminist art. Included are her involvement in the social project Womanhouse at CalState, sumptuous textiles on the topic of birth, and elements from The Dinner Party, her best-known work, which centers women in history as a table set with textile banners and personalized vulv-tastic ceramic plates. Not: to be missed are the numerous smoke-bomb / desert / painted--lady videos, and in the media room, a special treat in the form of a documentary around the production of The Dinner Party. This "dishy" film gives a sense of the the scale of the production, the gender politics in the studio and of the era, and a candid look at Chicago at work. pzb


BAMPFA
New Time: Art and Feminisms in the 21st Century, Through Jan. 30, 2022
Berkeley

This small but multi-faceted exhibit includes work by seventy five artists, including Tammy Rae Carland, Goshka Macuga, Kiki Smith, Mickalene Thomas, Farah Al Qasimi, and a great video work by Kalup Linzy. A particular treat : seeing a few of Laura Agilar's photo works in person.

Farah Al Qasimi: It's Not Easy Being Seen 3, 2016; archival inkjet print; 47 1/4 × 37 13/16 in.; courtesy the artist; The Third Line, Dubai; and Helena Anrather.


Oakland Museum of California
Mothership: Voyage Into Afrofuturism,
Through Feb 27, 2022
Oakland

OMCA does what it does best in an exhibition, mixing ephemera and art of vastly different mediums and eras to create an historic and cultural experience.

Replica of the Mothership, George Clinton of Parliament Funkadelic's Afrofuturistic vessel, Odell Hussel Photography

Casemore Kirkeby
Sonya Rapoport: Fabric Paintings,
Through Feb 5, 2022
San Francisco

Rapaport's fabric paintings were first shown in the 1960s and were a departure from her style until that point, abstract paintings in bright colors. From these works came a long interest in pattern making.

Sonya Rapoport (crop)

Museum of the African Diaspora
Billie Zangewa, Thread for a Web Begun.
Through Feb 27, 2022
San Francisco

"Although many of the scenes depicted in Zangewa's layered silk tapestries are autobiographical, there is a relatability that goes beyond her personal journey as an artist. Zangewa's labor-intensive processes recall the historic implications of "women's work" but remain a steadfastly contemporary interpretation of lived experiences."

Billie Zangewa, Heart of the Home, 2020. Hand-stitched silk collage


SFMOMA
Constellations, Through Aug 21, 2022
San Francisco

A new photo show with works from their collection, including photographs by Wendy Red Star, the textile loving photographer who uses fabric and kitsch materials to mock the overt romanticization of depictions of Native American life.

Wendy Red Star, Fall, from the series Four Seasons, 2006, printed 2017


San Jose Museum of Art


Hito Steyerl: Factory of the Sun

. Through Nov. 27, 2022
San Jose
'SJMA presents the landmark video installation, Hito Steyerl's
Factory of the Sun
(2015). Interweaving genres of video games, internet dance videos, news reportage, and documentary film, the installation tells the surreal story of workers whose forced moves in a motion capture studio are turned into artificial sunlight.
Factory of the Sun
probes the pleasures and perils of digital image circulation, while exploring possibilities for collective resistance when surveillance has become routine in an increasingly virtual world." Definitely worth a trip to the South Bay.
Hito Steyerl,
Factory of the Sun
, 2015. Single channel high definition video, environment, luminescent LE grid, beach chairs, 23 minutes.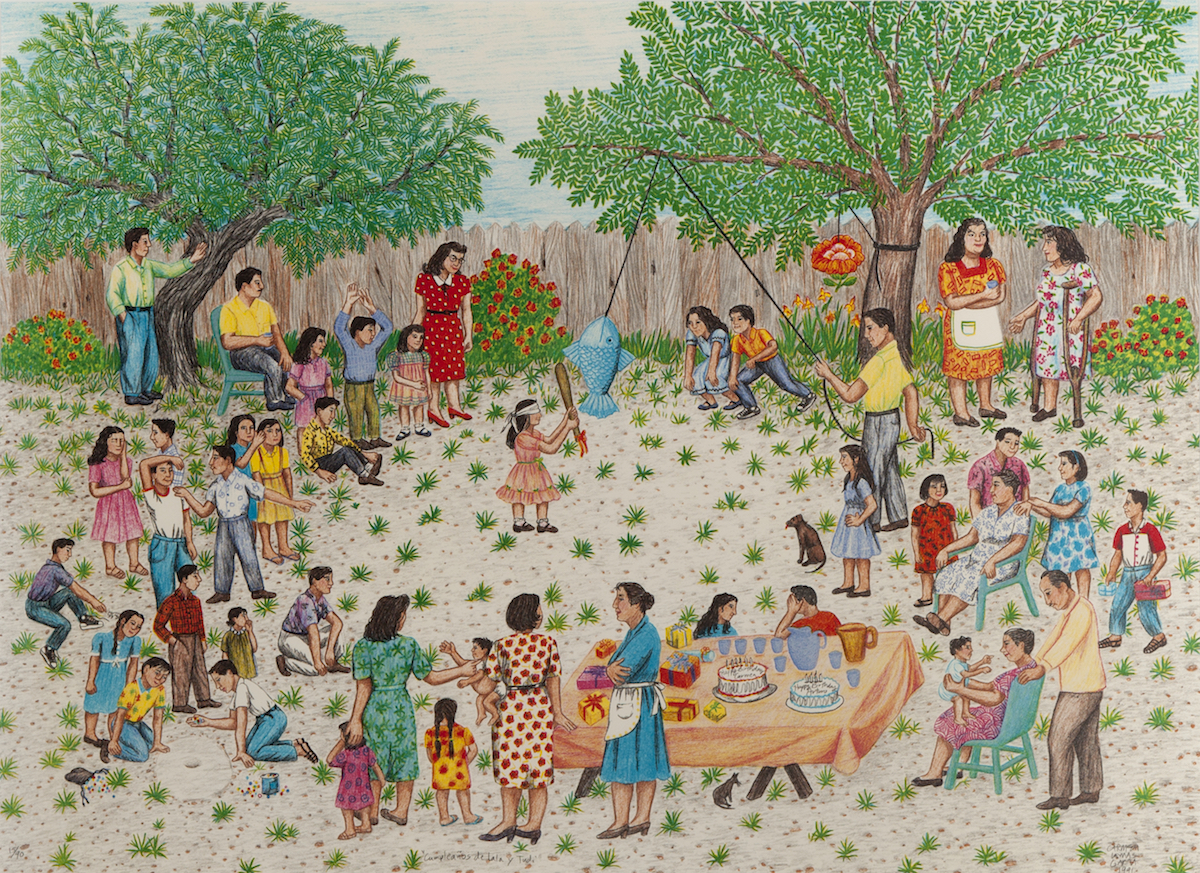 Mills College Art Museum
Unseen: the Hidden Labor of Women,
Jan. 22-March 13, 2022
Oakland

Curated by students of the museum studies workshop with work from the permanent collection.

Carmen Lomas Garza, Cumpleanos de Lala y Tudi, 1991. Lithograph on paper




San Jose Museum of Quilts and Textiles
Queer Threads, April 13 - July 3, 2022
San Jose

Queer Threads presents nearly three dozen artists connected to the West coast who are remixing fiber and textile traditions to explore contemporary LGBTQ ideas. Featuring work by epic Oakland-based artist, educator and Friend of Feral Fabric Angela Hennessy.

Angela Hennessy, Black Rainbow, 2017
Crocheted synthetic and human hair, artist's hair, LED light strip, frame. 10' x 15' x 5'