---
August 29, 2021
Because of covid, we pivoted to distributing DIY sew and mend kits to folks for the last few months.
But we've made progress on the quilts too! We found several great volunteers who have contributed to helping us put the first round of Story Quilts together. One thing we aere slowly learning is that giant textiles are hard to work on! The one above (work in progress from our first workshop with South County Homeless Project in Hayward) is about 10 feet tall! We're looking forward to hand-tying it with thick black yarn



---
October 1, 2020

We are back at it! Laying out the design for our Here/There Camp Story Quilt, finally! It feels like it's been an eternity since we were able to actually make art and work on our projects. Collaborations in the time of Covid-19 are a tricky routine to navigate and we are still really missing the community we established while starting this project. For now, we are just beyond happy and grateful to be able to work together on this.



---
September 15, 2020

We started a Kickstarter!

We're raising some funds to pay contributors to our journal and put some money towards our Story Quilt Project! We developed some pretty cool rewards and are stoked to see our projects moving forward. Our goal is to raise enough money to fund a whole year of programming for the journal and cover a year of expenses for our story quilt workshops, allowing us to complete our in-progress projects and begin workshops with two more organizations! We made some really cool stuff to sell. Check it out HERE and buy some merch!


---
September 4, 2020

We are happy to report that Paulina has received an individual artist grant to work on the Story Quilt Project from the City of Berkeley! We are looking forward to getting back into the full swing of our project again ASAP now that it's a little safer to meet up. Also we are thrilled to note that two particpants from our past workshops have secured permanent housing! Congratulations to them and we hope that one day ALL the particpants from ALL the workshops will have suitable housing to fit their needs. Housing is a human right!


---
May 1, 2020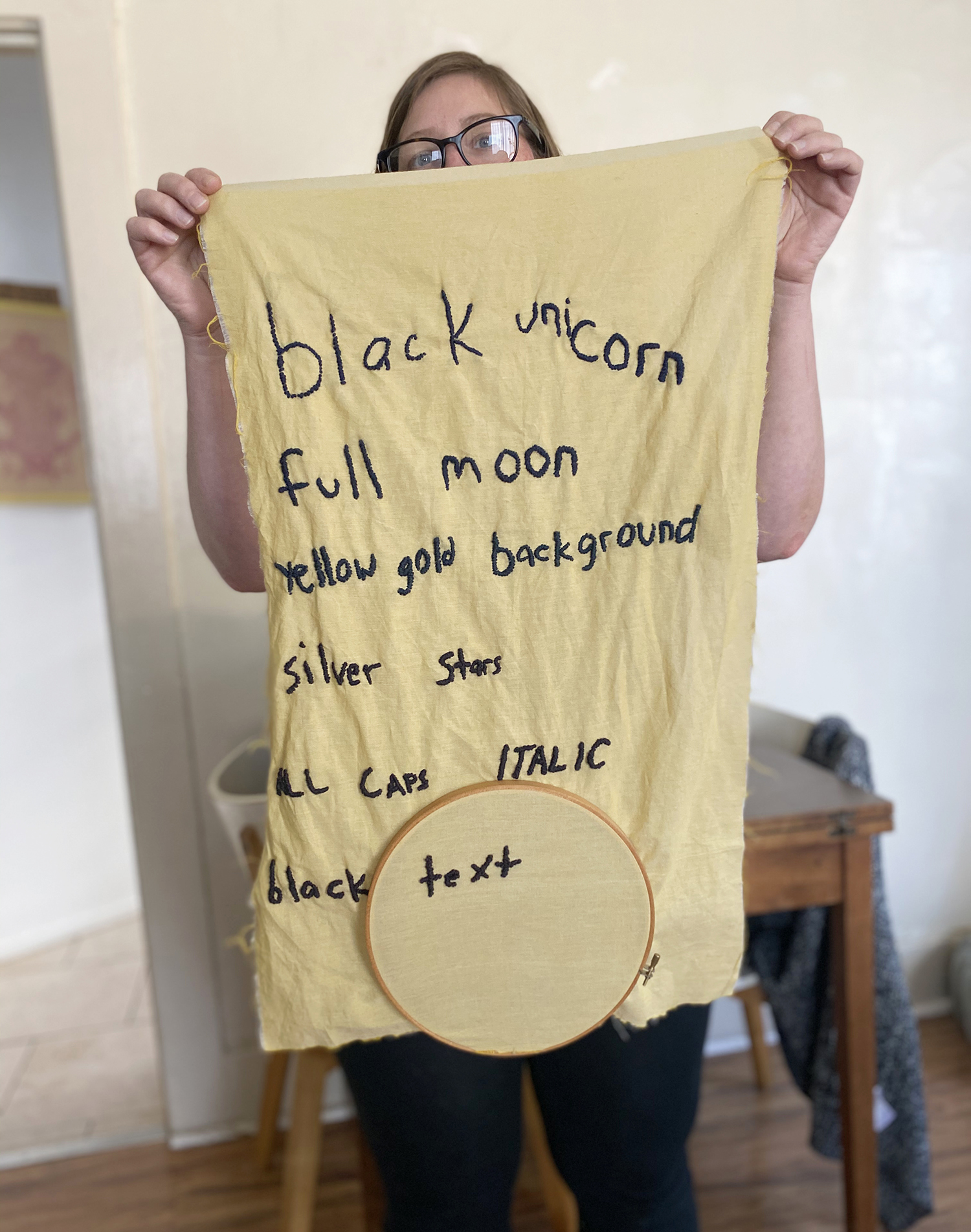 Stay at home time = embroidery time
Our workshops may be shut down, but we have work to do! Here is an embroidery that Amanda finished for Ms Lena from our workshop at the South County Homeless Project. This poem was constructed from the detailed list of image and type specifications Ms Lena offered us.
---
April 18, 2020
Our workshops are currently on pause while we shelter in place. We can't wait until we can all work together and resume the workshops when this is all over! Until then, we will post updates on the work we get up to on our own, emboidering and finishing patches designed in the past workshops.
Our last workshop at the Here/ There camp on the Berkeley-Oakland border, March 8, 2020.